Price: $5/day | $30/week
The Fisher-Price Healthy Care Deluxe Booster Seat has a feeding tray you can sanitize right in the dishwasher. With the snap-on lid in place, your child's tray will stay clean until you're ready to use it! So you can take it wherever you go (it folds compactly) and always be sure that baby's feeding tray is dishwasher clean!
Three height adjustments allow for a custom fit to any table. Front & rear seat straps adjust to fit virtually any chair and three-point harness adjusts to hold growing child securely. The booster folds compactly for portability, with a carry strap so you can take it anywhere! Weight limit 45 lbs.
Bumbo Floor Seat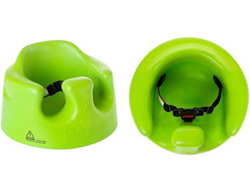 Price: $4/day | $20/week
The Bumbo Floor seat was designed to seat young babies who can't sit up by themselves yet. As soon as your baby can support their own head you can seat them in the Bumbo Floor Seat. The seat has many technical design features that supports the babies posture allowing them to interact with their surroundings.
The Bumbo Floor Seat has received many awards from around the world for its effective and functional design but be aware of copy products that lacks some important features.